Dear Family, Friends, and Gentle Readers,
We'll get to Malibu in a second, but I had to stop by my Encino dentist to swap out a temporary tooth for a permanent one today, so I made a point to stop and get a picture of a place I hung out occasionally about 30 years ago when I used to work in the Valley.
In Encino (which means "oak" in Spanish), smack dab in the middle of a bunch of high-rise office buildings on Ventura Blvd. is this micro park, There's a pond, an adobe house, and a 2-storey limestone house as well. I worked in Sherman Oaks as a corporate trainer for a bank, and every now and then my then-wife would bring the babies by and we'd head over and eat lunch outside at this park. Seeing her and the boys sure made my day back then.
The Spanish explorer Portola came over into the Valley from the basin area, encountered a village here where there is a natural spring, and a pond with oaks growing about. He decided to name the Valley
"El Valle de Santa Catalina de Bononia de Los Encinos" (The Valley of St. Catherine of Bononia of the Oaks). Of course, now we just call it "The Valley" and this little part of the valley, which was used as a headquarters by the Spanish (they had this habit of taking over nice places they found) until they set up the San Fernando Mission, and the name of the place got shortened to "Encino" today.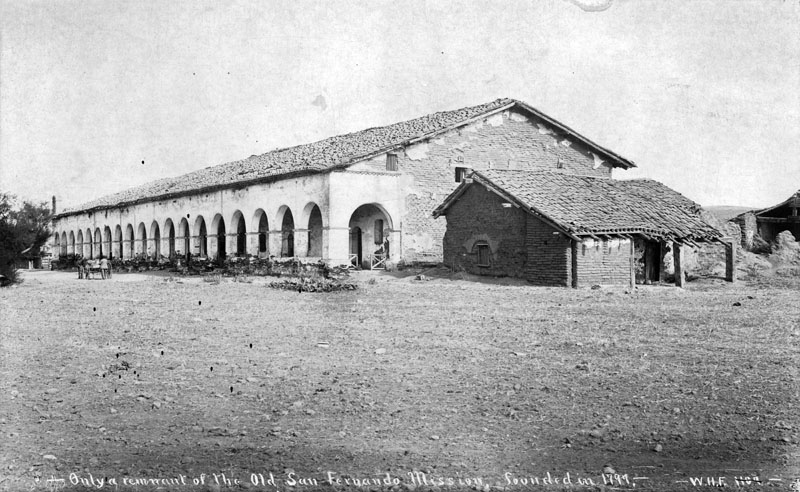 Mission San Fernando, they've painted since this photo..
Never mind that there were people here called the Tongva who lived here thousands of years and that called their village Siutcanga--I'm sure they all died of flu and measles later anyway, so it's all good. How we even know those names surprises me... but I digress (missionaries did have to file reports with superiors so that's probably it).
There is a stump of an live oak tree that fell over in a storm in 1998. What is notable about it was that it was over 1,000 years old. Some things do last in So Cal, but eventually everything has to come down. That's the takeaway lesson for me.
We haven't forgotten the Tongva completely. There is a park in Santa Monica named after them. If you go to the S.M. Pier, you can't help but see the name and wonder "What the hell does that mean?" Now you know. Yay you!
And with that little bit of ocean horizon, it segues us right into your Malibu picture of the day!
Okay, wow then, not so blue today ... sorry ... but if this blog is about anything, it's about truth (as I see it).
Have a wonderful Tuesday.
Love,
Pops